Royal Canin Hepatic LS 14
Royal Canin Hepatic LS 14 is supposed to be a dietary aid in the management of hepatic disease in dogs.
It's a highly palatable and easily digestible food that has restricted copper content. It is also formulated to assist in the management of liver disease.
Copper Control
This product has lower levels of copper and increased levels of zinc which helps to minimize accumulation of copper in liver cells.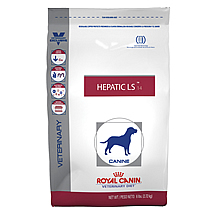 Vegetable Protein
In order to minimize hepatic encephalopathy, vegetable protein is used which is better tolerated by dogs with liver problems.
Electrolyte Balance
The sodium level is decreased to help decrease portal hypertension and it reduces extra vascular water flow.
Natural Preservatives
Royal Canin Hepatic LS 13 is naturally preserved for freshness and quality, no artificial preservatives are used at all in this product.
Indications
This product is indicated for dog that have hepatic insufficiency, hepatic disease, hepatic encephalopathy, porto systemic shunts, and disorders of copper metabolism,
The primary carbohydrate is rice, and has a solid protein isolate as a primary protein source.
Contraindications
Some contraindications for feeding Royal Canin Hepatic LS 14 included dogs that are pregnant or lactating.
If you think your dog, who has liver problems, would benefit for this food, contact your veterinarian.