Purina One Dog Food
Is Purina One A Good Dog Food?
Purina One dog food comes in several varieties to suit the requirements of different breeds of dogs at the various stages of their lives.
Since 1986, the year in which they were launched, they have been very popular as a brand that offers dog food of very high quality and nutritional value.
The nutritious, wholesome food from this brand ensures the good health of your pets. Also, they have several exclusive varieties that suit your dog so well that he or she is sure to feel unique at mealtimes.
Purina One dog food has been successful in understanding and catering to the taste that a dog prefers, in accordance with his or her personality and life style.
They make use of the nutritional expertise and experience to formulate the best dog food varieties. This brand of dog food is characterized by the burgundy or teal package that the food comes in.
The Primary Ingredient Is Meat
The main or primary ingredient of Purina One dog food is real meat, fish or chicken. They have formulated a variety of foods to suit puppies, adult dogs and senior dogs.
These dog foods are very effective as evident from the new vigor, bubbling energy and radiance.
Vets and nutrition specialists here have listed six signs that reflect the health of your dog; all varieties of Purina One dog foods are designed to take care of all of these signs.
For example the formula intended for sensitive dogs is easily digested and is specially designed to take care of your dog's skin and coat. This formula includes rice, salmon and oatmeal as the main ingredients.
The formulation of Purina One dog foods is very special to attain the six signs of good health of your dog.
The correct level of proteins in the dog food ensures a lean body with strong muscles. The nutrient contents are in fortified form, thus providing good energy.
Dog Food With Added Vitamins & Minerals
These dog foods are rich in antioxidants, vitamins and minerals like Selenium to support a strong immune system and long life.
The adequate quantities of calcium and phosphorous and natural ingredients providing glucosamine help to ensure strong bones and joints.
Rice and oat meal are the main ingredients supplying carbohydrates and they are easily digestible and also aid in appropriate nutrient absorption.
The omega 3-6 fatty acids present in this dog food is very good for the health of skin of your dog. A good skin and coat, and health of eyes are ensured by the vitamin E and fish oils present in it.
These are in the form of crunchy kibbles, which help in good teeth, free from plaque and tartar, and clean, fresh breath.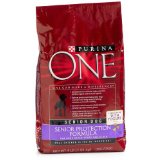 Related Articles: Purina Fit and Trim Dog Food.