Gourmet Dog Food
5 Requirements For Gourmet Dog Food
What does it take to be gourmet dog food?
It's very easy to label your dog food as gourmet dog food since there are no regulations about what can and cannot be called gourmet dog food, but here are some suggestions.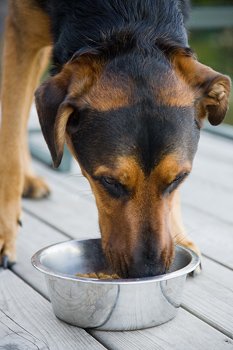 1. Human Grade Meat
The primary ingredient on the package should be some type of meat, and if you're going to call yourself a gourmet product, it should be human great quality meat. Not mechanically separated mystery meat from various parts of the animal's carcass.
2. No Corn
For higher quality dog foods corn as a primary ingredient should be avoided. I would look for something that has brown rice as the primary carbohydrate.
3. No Artificial Preservatives or Colors
Artificial preservatives are much cheaper then using natural preservatives. That is why using artificial preservatives in dog foods is a great way to save money for the dog food makers, but it is not necessarily the best for dog health.
4. Packaging
To go along with the gourmet dog food in the bag, the bag itself has to be of sufficient quality to make is attractive, but also to keep the product inside safe. A plain paper bag will not do, we need to have a foil pouch.
5. Price
The gourmet dog food prices should be much higher then grocery store dog food prices. If it is not, then you have to question if it is really gourmet dog food. After all, better ingredients cost more, right?