Orijen Puppy Food
Orijen puppy food is made by a Canadian pet food maker, and has been in production for over 25 years. Orijen prides itself in producing biologically appropriate foods for dogs and cats. All foods are produced in their factory in Alberta Canada.
Orijen Puppy
Orijen puppy food is designed to be a high protein and low carbohydrate food that replicates the same diverse diet that puppies and other young dogs would naturally encounter in the wild.
This food is made with free range chickens and turkeys, whole fruits and freshwater and saltwater fish.
It is filled with human grade meats and none of the grains are carbohydrates that would be inappropriate for puppies
Instead of using the traditional cereal grains they only use regional fruits and vegetables like potatoes, apples, and cranberries,
They use fresh salmon to provide Omega fatty acids, which are important for skin, coat, and immune systems. They also add dandelion root, sweet fennel, and peppermint leaf.
Puppy Large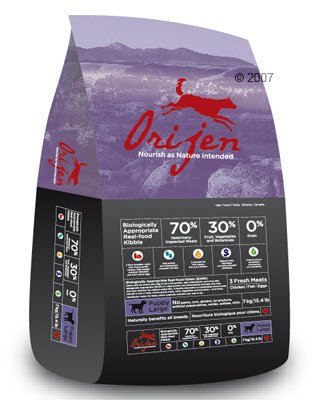 Orijen Puppy Large is for large breed puppies and it is a high protein, grain free, and low in carbohydrates. It is also specially formulated to avoid elevating the calcium and phosphorus levels which is a concern for large breed puppies. It also contains natural sources of glucosamine and chondroitin to promote healthy development of the joints and the bones.
Other Information
>Refrigeration of the product is not required
>You should stored in an airtight container
>It is not available in cans
>Orijen is made to contain 70-75% meat ingredients
>Protein levels between range between 30 and 42%
>Orijen Puppy Food Carbohydrate levels range from 18-22%