Go Natural Dog Food
Go Natural Dog Food and is a product line from Petcurean Pet Nutrition based out of Chilliwack, British Columbia, Canada.
The company was founded 1999 with the concept of utilizing human grade formularies.
Benefits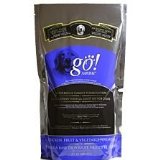 Go Natural dog food is designed to be a superior pet food and is made with human grade beef, chicken meat, fresh caught wild Coast Salmon, and other human grade protein sources.
Other ingredients include oatmeal, whole brown rice, potatoes, carrots, apples, cranberries, flaxseed, garlic, beta-carotene, and probiotics.
Performance Features
1. Feed one formula for an entire lifetime
2. Feed up to 40% less
3. Government certified fit for human consumption ingredients
4. Solutions formulas
5. Quality assurance
Varieties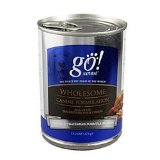 Go! Natural Duck
Go! Natural Salmon and Oatmeal
Go! Natural Chicken Fruit and Vegetables
Go! Natural Grain Free Endurance Formula
Canned Dog Food
Chicken and Vegetables in gravy
Salmon and Vegetables
Grain Free Chicken/Turkey/Duck
Grain Free Trout