Royal Canin Labrador Retreiver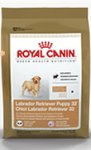 Labrador Retriever Puppy 33
Labrador Retriever Puppy 33 and is designed to help your dog grow steadily through the growth curve. This is done because if Labs grow too quickly their weight can be too much for their bone strength.
Also since Labs are prone to put on excessive weight, it is formulated with l-carnitine which helps to burn fat.
Since puppies have digestive tracts are not fully developed there's also a special blend of fibers added.
Also vitamin E and C and mannan-oligosaccarides (MOS) is added to help stimulate antibody production.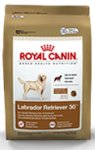 Labrador Retriever 30
Royal Canin Labrador Retriever 30, is specifically formulated to help Labs stay lean. This is done by adding our L-carnitine, which is a natural fat burner, also the kibble is a donut shaped, which forces the dogs to chew slower thereby aiding digestion.
To help their bones and joints stay strong, Royal Canin also added glucosamine and chondroitin.
Other added ingredients to royal canin dog food are omega 6 and 3 fatty acids, chelated zinc and copper, and vitamins A and B to help your dogs coat and skin stay vibrant.