Cesar Dog Food
Cesar Dog Food produces a wide range of food products mainly for small breed dogs. Cesar dog food is famous for having a dog named Maggie in its commercials. Here is a quick overview of their different offerings and their different products.
Did You Know?
Maggie in the Caesar dog food commercials is a West Highland White Terrier.
Gourmet Filets in sauce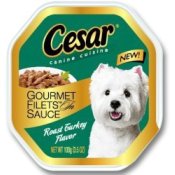 Rib eye steak
Beef tenderloin
Prime rib
New York strip
Filet mignon
Grilled chicken
Braised chicken and garden vegetables
Roast turkey
Original Pate
T-bone steak
Porterhouse steak flavor
with beef
with braised beef and garden vegetables
Top sirloin flavor
With lamb
Pork tenderloin flavor
With chicken and beef
Grilled chicken flavor
With chicken and liver
With chicken and veal
With braised chicken and garden vegetables
Turkey
With Duck
Puppy chicken and beef
Senior chicken and rice
Cesar Sunrise Breakfast
with smoked bacon and egg
Chicken cheddar cheese souffle
Grilled steak and eggs flavor
Bistro
Steak Florentine Flavor
Grilled Chicken Primavera
Tuscan Style Stew with beef
Steak Tips Sonoma Style Flavor
Oven Roasted Beef Burgundy Flavor
Snacks & Treats
Filet Mignon Flavor
Grilled Chicken Flavor
Prime Rib Flavor
As you can see, Cesar dog food comes in a wide variety of flavors to feed almost any taste you dog might have.