IVD Dog Food
Royal Canin IVD dog food comes in a wide variety of diets. Because some of these diets are short fans and because they treat certain medical conditions you can almost think of these as medicine.
The letters IVD stand for Innovative Veterinary Diets. This is a company that Royal Canin purchased and they continue to sell prescription veterinary diets under this brand name.
To find out if any of these diets would be good for your dog you should talk to your veterinarian. Also most of these diets are only available through a prescription. So you need to get permission from your veterinarian before you purchase these diets for your pet.
If you feed your pet a prescription diet, when they do not need it, it can have negative consequences on the health of your pet. The diets looks below cover a wide variety of medical conditions. From skin diseases, to kidney problems, and almost everything in between seems to be able to be covered by a prescription of veterinary diet.
IVD Dog Food Varieties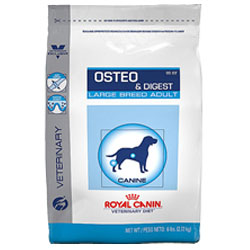 The prescription dog diets below are listed by their names, followed by the sizes they are available in. For sizes listed in ounces that means it comes in a can. For items listed in pounds that means it comes in a dry form in a bag.
Royal Canin IVD Canine Calorie Control CC 26 High-Fiber 13.6oz, 6lbs, 17lbs, 33lbs,
Royal Canin IVD Canine Calorie Control High-Protein 12.7oz
Royal Canin IVD Canine Calorie Control CC 32 High Protein 5lb, 16lb, 33lbs
Royal Canin IVD Canine Control Formula 14oz, 18lbs
Royal Canin IVD Canine Dental DD 20 16lbs, 33lbs,
Royal Canin IVD Canine Dental DS 23 Small Breed 7lbs
Royal Canin IVD Canine Diabetics HF 18 15lbs
Royal Canin IVD Canine Digestive Low Fat LF 20 13.6oz, 5lbs, 16lbs, 33lbs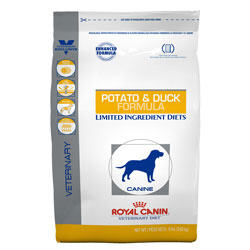 Royal Canin IVD Canine Early Cardiac EC 22 5.5 lbs, 16.5lbs
Royal Canin IVD Canine Hepatic LS 14 6lbs, 17.5lbs
Royal Canin IVD Canine Hypoallergenic HP 19 6lbs, 16.5lbs, 37lbs
Royal Canin IVD Canine Intestinal HE 28 14oz, 32lbs
Royal Canin IVD Canine Potato and Duck Formula 14oz, 8lbs, 16lbs, 32lbs
Royal Canin IVD Canine Potato and Duck Light Formula 8lbs, 16lbs
Royal Canin IVD Canine Potato and Rabbit Formula 13.6oz, 8lbs, 16lbs
Royal Canin IVD Canine Potato and Venison 14oz, 8lbs, 16lbs
Royal Canin IVD Canine Potato and Venison Large Breed 16lbs, 32lbs
Royal Canin IVD Canine Potato and Whitefish Formula 14oz, 8lbs, 16lbs
Royal Canin IVD Canine Mature Formula 13.2oz, 6lbs, 30lbs,
Royal Canin IVD Canine Mobility Support JS 21 5.5lbs, 16.5lbs
Royal Canin IVD Canine Mobility Support JS 23 5.5lbs, 16.5lbs
Royal Canin IVD Canine Mobility Support JS 24 Large Breed 5.5lbs, 16.5lbs
Royal Canin IVD Canine Skin Support SS 21 6lbs, 16.5lbs, 32lbs
Royal Canin IVD Canine Urinary SO 14 13.6oz, 5.5lbs, 16.5lbs, 32lbs
Royal Canin IVD Canine Vegetarian Formula 13.6oz, 8.8lbs, 16.5lbs
Royal Canin IVD Canine Urinary U/C 18 18lbs
Royal Canin IVD Canine Renal LP 11-Modified Formula 14oz, 5.5lbs, 16lbs
Royal Canin IVD Canine Renal MP 14-Modified 13.4oz, 6lbs, 16.5lbs
Royal Canin IVD Canine Recovery RS 5.8oz
Royal Canin IVD Canine Treats for Dogs 17.6oz bag