Authority Dog Food
Authority Dog Food Review
Authority dog food is PetSmart's brand of dog food and treats. Its main selling points for this brand is that you get quality nutrition for your pets at a value price.
Is Authority Dog Food Good?
Authority brand dog food was developed by the animal nutritionists at PetSmart. This brand of dog food and treats contain all-natural ingredients and they even contain real meat which improves the taste. Also there are no artificial preservatives because everything is naturally preserved with vitamin E.
There are no byproducts, artificial flavors, colors, or preservatives. In fact it can be hard to find a dog food that offers all these benefits for this cheap price.
Digestibility
PetSmart claims that this food produces smaller and firmer stools. This is because of the high quality ingredients, and no cheap fillers. This results in a more nutrient dense product, and hence smaller stools.
AAFCO
According to the website this food is regularly tested using approved protocols from AAFCO. They also routinely test for quality and consistency. There is even a built-in batch control, so every batch of dog food has to go under the same tasks quality tests.
Benefits
Some of the benefits of feeding this brand of dog food include real meat, which results in better palatability. It also includes Omega fatty acids, which can help improve skin and coat condition.
There is even six times the level of vitamin E., which is an anti-oxidant. The main source of carbohydrates for the use dog food and treats his brewers rice and brown rice.
Formulations
Adult Chicken Formula for Dogs: Formulated without wheat or wheat by-products to help dogs sensitive to wheat.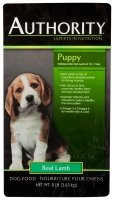 Adult Lamb Formula for Dogs: Formulated without corn or corn by-products to help dogs sensitive to corn.
Senior Dog Food with Real Chicken
Adult Weight Management with Real Lamb
Adult Weight Management with Grilled Chicken
Adult Large Breed with Real Chicken
Adult Dry Food with Real Lamb
Adult Dry Food with Real Chicken
Puppy Food with Real Lamb
Puppy Food with Real Chicken
Treats and Biscuits
Authority Training Treats
Authority Poppy Growth and Development Treats
Authority Liver Treats for Dogs
Authority Dental Wellness Biscuits for Dogs
Authority Premium Biscuits (Lite Chicken and Rice, Lamb and Rice, Chicken and Rice)
Quality Guaranteed
PetSmart guarantees that you'll be satisfied with this food. If for some reason youÕre not satisfied with the food you can return any unused portion to any store or to PetSmart.com for a refund.