SportDOG Wetland Hunter A-Series 1 Mile Trainer SD-1825CAMO
by DrChrisPetCare.com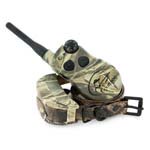 Introduction
With the SportDOG Wetland Hunter A-Series 1 Mile Trainer SD-1825CAMO you are in control with as many as sixteen stimulus levels and the ability to choose between temporary or continuous modification. Tone and vibration options help you make a personalized training system to ensure the very best functionality from your dog. With one mile of range, a lean profile collar that guarantees an ideal fit, and a small transmitter that is simple to handle. SportDOG Brand delivers on their promise. This particular remote retriever coaching system sets numerous training choices in the user's hand.
Catalog ID: SD-1825CAMO
Features
* Adapter
* Collar receiver
* Charging cradle
* Remote transmitter
* Up to 16 stimulus levels
* Extra collar strap (orange)
* DryTek Waterproof Design Technology
* Realtree Advantage Max-4 HD Camo finish
* Expands to three dogs (SDR-A Add-A-Dog)
* Receiver dimensions 3.5" x 1.5" x 1.5" (2.6oz)
* Two Year Non-Transferable Limited Warranty
* Choice of Continuous or Momentary (nick) correction
* One mile range * Ergonomic, sleek-profile collar design
* Convenient docking station charges system in two hours
* Transmitter dimensions 6.75" x 2" x 1" (5.1oz with battery)
* Vibration and tone choices for long-distance communication
* Rechargeable Lithium Ion batteries - User disposable, too. Durable. They survive 3-5 years with correct care.
Description
The SportDOG Wetland Hunter A-Series 1 Mile Trainer SD-1825CAMO was created for a variety of dog handlers such as dog owners, behavior trainers, bird seekers, rabbit seekers, and waterfowl hunters. The wide selection of stimulation ranges and slow increases between ranges on the SD-1825 Camo are especially beneficial with vulnerable pets or breeds. The Wetland Hunter A Series Remote Trainer could be extended to manage up to three dogs by having SportDog Brand SDR-AW Add-A-Dog Collars.
Order This Item Through DrChrisPetCare.com and Save!

Click Here: SportDOG Wetland Hunter A-Series 1 Mile Trainer SD-1825CAMO
Other Recommended Products:
Therapeutic Dog Beds
Heated Dog Beds
Dog DNA Test