Recall: Wellness Pet Food Recalled Over Low Thiamine Levels
by Dr. Chris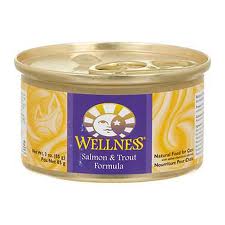 March 27, 2011 Earlier this month, Wellness Pet Food announced a recall of some cans of cat food because it might not contain enough thiamine (vitamin B1). This is a voluntary recall and there were no adverse events reported at the time of this writing.


The recall includes all sizes and flavors of their canned cat food. The dates on the recalled cans of cat food are the "best by dates" between April 14, 2013 and September 30, 2013. The products recall dates for the Wellness Canned Cat Food Chicken and Herring product is for the "best by dates" between November 10, 2013, and November 17, 2013.
Wellpet makes higher end pet food products for dogs and cats. If you think your cat is affected or have questions you can call Wellness Pet Foods at 1-877-227-9587, or visit their website at:
wellnesspetfood.com
.
Signs of Thiamine Deficiency in Cats
1. Hypersalivation
2. Decreased Food Intake
3. Tonic Convulsive Seizures
4. Ventroflexion of the Head
5. Loss of Righting Reflex
6. Coma (in severe cases)
Cats normally don't show signs of thiamine deficiency until at least 2-4 weeks after being deficient of vitamin B1.
Thiamine is a cofactor in metabolism and is required in order to metabolize glucose to carbon dioxide and water by the TCA cycle (tricarboxylic acid cycle)
For more information read:
Wellness Pet Food
.
To read more blog posts go here:
Top Dog Foods Blog
To sign up for my newsletter go here:
Veterinary Newsletter