Pedigree Introduces 100% Natural Raw Dog Food: K9 Natural
by Dr. Chris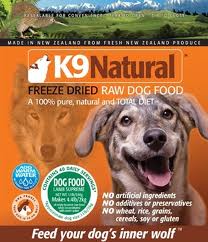 December 4, 2010 K9 Natural is a new dog food that is 100% raw, and comes in three different product sizes. K9 Natural was created by Geoff Bowers, who is a former police dog handler from Manchester UK.


Mr. Bowers took his inspiration for K9 Natural
raw dog food
from the diet of dog's closest relative, wolves. More specifically the gray wolf.
K9 Natural is made with 85% raw lamb, crushed bone and blood, and it has fresh fruits and vegetables, garlic, and whole eggs. It does not contain grains, and is supposed to be free from antibiotics hormones and other artificial additives.
See:
17 Foods to Avoid Feeding Your Pet
Although created in the UK, the product is made in New Zealand. Any age of dog can be fed K9 Natural, even dogs that are nursing or pregnant.
K9 Natural Feeding Directions
Because it is freeze-dried, unlike other
raw pet foods
, you don't have to refrigerate it. All you do is add warm water to it for an instant dog meal. The lamb flavor comes in two package sizes, 4 kg or 500 g. They also sell dog treats.
To read more blog posts go here:
Top Dog Foods Blog
To sign up for my newsletter go here:
Veterinary Newsletter