Joe Inglis launches Vet's Kitchen
by Dr. Chris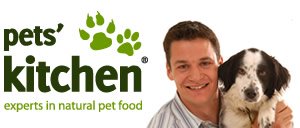 November 8, 2010 Joe Inglis has created Vet's Kitchen, a British-made 100 % dry food and sauce-supplement selection for cats and dogs. Vet's Kitchen foods are especially created with high quality 100 % natural ingredients along with lots of real fish and meat for quickly digestible protein, and are created as hypo-allergenic recipes in UK manufacturing kitchens. Each formula also contains key useful natural ingredients to provide specific health improvements to pets, including:


* Taurine for heart health
* Cranberry extract for urinary health
* Prebiotics for gastrointestinal system
* Nucleotides for a strong immune system
* Chondroitin and glucosmaine for healthy joints
* Omega 3 essential fatty acids for healthy skin, coat and defense mechanisms
Each recipe have been made to provide many benefits for your dogs applying carefully chosen 100 % natural ingredients like omega 3, prebiotics and nucleotides. Joe Inglis says these foods deliver the top level of professional veterinarian care for the dog and will make for lasting health and wellness.
The full, concentrated dry food formulas for dogs contain: Puppy; Adult (Brown Rice & Chicken and Potato & Salmon); Light and Senior.
The distinctive high-density formula of dry foods means small meals and less expensive feeding - it costs around 3 times less to supply a dog Joe Inglis Vet's Kitchen in comparison to conventional wet
canned dog foods
. He wants his to be the
best dry dog food
.
The 'Active Joints' formula is a chicken sauce full of human-quality joint care components (chondroitin, collagen, hyaluronic acid, glucosamine and MSM).
To read more blog posts go here:
Top Dog Foods Blog
To sign up for my newsletter go here:
Veterinary Newsletter