Dogtra Advanced 3/4 Mile Remote Trainer 2300NCP
by DrChrisPetCare.com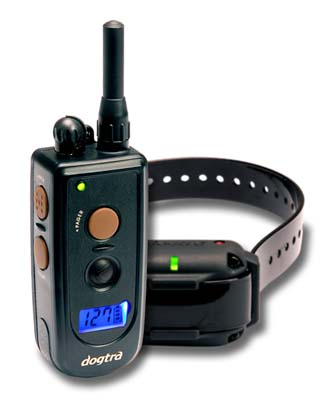 Introduction
The Dogtra Advanced 3/4 Mile Remote Trainer 2300NCP with LCD screen is a multi-purpose e-collar for moderate mannered or obstinate dogs. It was created for advanced level dog training, field work or any kind of hunting in which a 3/4-mile range is required.
Catalog ID: 2300NCP
Features
* Has a 3/4-mile range.
* Easy-to-use, ergonomic transmitter.
* No outer antenna at the collar/receiver.
* Fully waterproof collar/receiver and transmitter.
* Stimulation type - Nick, Continuous and non-stimulating pager/vibration.
* Over 8000 distinct identity codes to avoid signal match-up with other dog e-collars.
* One-charger system lets the transmitter and receiver(s) to be charged simultaneously.
* 3 bar battery life signal and LED colored signal showing the remaining life of the battery.
* Dogtra Advance utilizes a Rechargeable, Lithium-Polymer battery that gives a 2-Hour Rapid Charge
* Rheostat dial provides for gradual accelerates in stimulation strength without jumps between ranges (-127).
* Two-dog models let the trainer to manage two distinct dogs from a single transmitter without the trouble of managing needless parts.
* Easily visible blue LCD screen shows exact degree of stimulation and are visible the dark or low light situations.
Order This Item Through DrChrisPetCare.com and Save!

Click Here: Dogtra Advanced 3/4 Mile Remote Trainer 2300NCP
Other Recommended Products:
Therapeutic Dog Beds
Heated Dog Beds
Dog DNA Test