Dogtra 2 Dog Advanced 3/4 Mile Remote Trainer 2302NCP
by DrChrisPetCare.com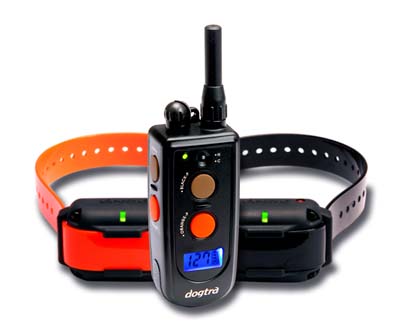 Introduction
The Dogtra 2 Dog Advanced 3/4 Mile Remote Trainer 2302NCP with LCD screen is an accurate multi-purpose e-collar for moderate mannered or tenacious dogs. It is made for advanced stage pet training, competition field work or any kind of hunting in which a 3/4-mile range is necessary.
Catalog ID: 2302NCP
Features
* Low to high power.
* Rheostat dial enables slow increases in stimulation intensity without any leaps between levels (-127).
* Two-dog models permit the trainer to manage 2 different dogs from a single transmitter without the problem of dealing with unneeded parts.
* Dogtra 2300NCP Advance Series has a 3/4-mile range.
* Stimulation type- Continuous, Nick and non-stimulating pager or vibration.
* Dogtra 2300NCP Advance Series runs on the new Lithium Polymer battery that delivers a 2-hour rapid charge.
* Fully Water resistant collar/receiver and transmitter.
* Easily visible blue LCD screen shows precise level of stimulation and are visible in the dark or low light conditions.
* Three bar battery life indicator and LED colored indicator to show remaining life of the battery.
Description
This Dogtra 2 Dog Advanced 3/4 Mile Remote Trainer 2302NCP is for you if you are confident enough with your dog to permit him to go out to long ranges, but you would also like a high-powered unit that could pull him back if you choose to modify him or want him to hit something nearer. This 100% water resistant trainer covers up to 3/4-mile range and even has an individual 2" antenna for 1/2-mile ranging. Sports a lighted LCD screen to find proper setting levels. The rechargeable transmitter has continuous, nick and pager vibration modes, 127 rheostatic stages of correction. Transmitter and receiver use rechargeable lithium polymer batteries for quick charging and much longer field life.
Order This Item Through DrChrisPetCare.com and Save!

Click Here: Dogtra 2 Dog Advanced 3/4 Mile Remote Trainer 2302NCP
Other Recommended Products:
Therapeutic Dog Beds
Heated Dog Beds
Dog DNA Test