Dog Foods for Pancreatitis (and Dog Treat Suggestions for Pancreatitis)
by Dr. Chris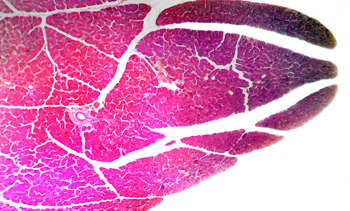 Dog Pancreas Cross Section
Good dog foods for pancreatitis can be hard to find. You need to find a food that is low in fat, but also that tastes good for your dog. The reason to feed your pet low fat dog food is to reduce the workload on the pancreas which processes fat.


Prescription Dog Foods for Pancreatitis
1. Royal Canin Low Fat (LF)
This diet seems to be most commonly recommended by veterinarians after acute cases of pancreatitis. It has one of the lowest fat contents of all dog foods at 16% fat ME.
2. Purina Veterinary Diets EN

3. Hill?s Prescription Diet r/d Canine Weight Loss ? Low Calorie

4. Hill?s Prescription Diet g/d Canine Early Cardiac Healthy Aging

5. Hill?s Prescription Diet i/d Canine Gastrointestinal Health
Over the Counter Dog Foods for Pancreatitis
Pro Plan Weight Management
At 2.8g/100 kcals fat, this could be a good over the counter option when it comes to dog foods for pancreatitis.
Click here to learn more about
pancreatitis in dogs
.
Dog Treats for Pancreatitis
If your dog is recovering from pancreatitis, it is best to give them low fat treats as well. Definitely avoid people food.
1. Hill?s Science Diet Simple Essentials Light Dog Treats

2. Purina Veterinary Diets Lite Snackers

3. Greenies
*Disclaimer: Make sure you consult your veterinarian before switching your dog?s diet. Any change in fat content could cause your dog to get pancreatitis again.
Also be aware that there is not one absolute best dog food for pancreatitis. Often it is a chore of you and your veterinarian searching for the right dog food for your specific dog.
To read more blog posts go here:
Top Dog Foods Blog
To sign up for my newsletter go here:
Veterinary Newsletter