CP-3000 Contact Pro Dog Tracking Kit
by DrChrisPetCare.com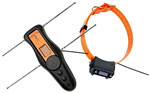 Introduction
When you are out on the hunt with your dogs, you want the best accuracy you can get. Dogs can range for miles over the course of hours, and when you want to find them, you should be able to, quickly and efficiently. Either they are on to game, or it is time to pack it up. With the CP-3000 Contact Pro Dog Tracking Kit, all is possible.
Catalog ID: CP-3000
Features
This unit is able to track a dog up to 12 miles away. The Contact Pro series features a readable, back-lit LCD handheld receiver providing fast access to vital information like gain adjustment, frequency, audio settings, and signal strength meter. The Pro Series has 200 built in channels allowing for maximum mobility in tracking many dogs. The lightweight portable receiver easily suits pants or jacket pockets for instant access when it's needed and is made to withstand the rigors everyday hunting. Built in each Contact Pro transmitter is a 3.5mm headset jack for all those moments when noise is just not an option. The pro series functions on 2 easily disposable AA batteries for up to 15 hours.
Description
The CP-3000 Contact Pro Dog Tracking Kit is the most accurate radio directional finder available.
Working on the only band the FCC has dedicated for radio location of 434-434 MHz enabling precise location of the dog(s) with no noise found at lower frequencies provided by competitive systems. Systems contain 1 collar transmitter, 1 receiving unit, batteries, instructions and a restricted lifetime warranty.
Order This Item Through DrChrisPetCare.com and Save!

Click Here: CP-3000 Contact Pro Dog Tracking Kit
Other Recommended Products:
Therapeutic Dog Beds
Heated Dog Beds
Dog DNA Test
Return to DrChrisPetCare Products.